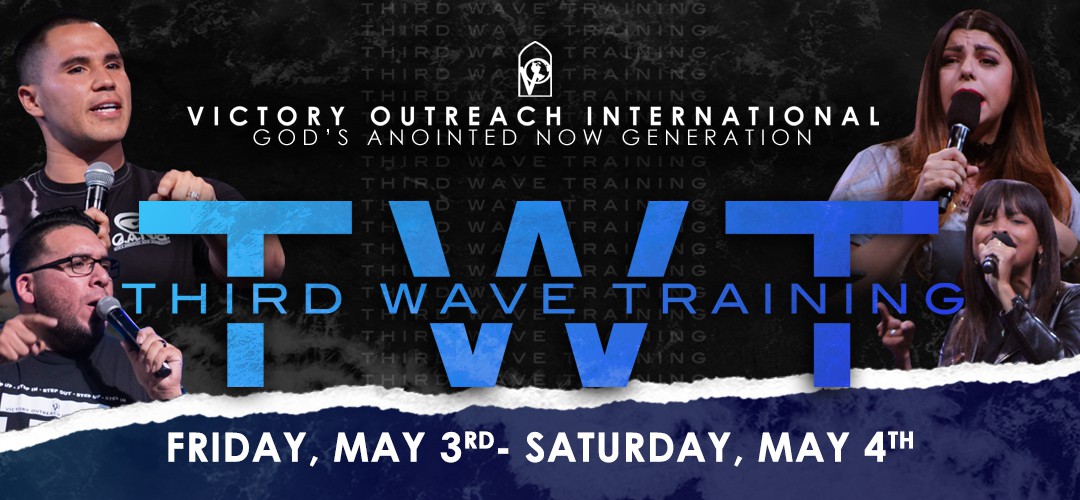 When
Where
Victory Outreach Chino
11436 Central Ave.
Chino, CA, 91710
UNITED STATES
View Map
(This Event has Passed)
GENERAL SESSIONS:
Friday, May 3rd and Saturday, May 4th
LOCATION:
Friday Night Service located in Victory Outreach Chino main sanctuary. Saturday workshops located all throughout Victory Outreach Chino campus.
REGISTRATION:
● $100.00 Per Person (Travel, Lodging and Childcare Not Included)
● REGISTER TOGETHER WITH MIGHTY MEN OF VALOR AND SAVE! COMBINATION PACKAGE: $290.00
● SPECIAL FOR BOTH EVENTS: REGISTER FOR MIGHTY MEN AND WITH REGISTRATION PROOF, THIRD WAVE TRAINING WILL BE:$85.00
● Register with Visa/MasterCard/Discover/American Express
● REGISTRATION IS NON-REFUNDABLE
● REGISTRATION WALK-INS/ON-SITE WILL BE AVAILABLE.
● Check-In; Victory Outreach Chino will be opened on Fri., May 3rd @ 5 p.m.- 8:00 p.m and Sat., May 4th @ 7:00 a.m. to 10:00 a.m.
● IMPORTANT: PRINT YOUR TICKET/CONFIRMATION AND BRING IT TO THE REGISTRATION/CHECK-IN COUNTER (Identification may be required)
(DOES NOT INCLUDE TRANSPORTATION, LODGING, OR MEALS. CHILD CARE NOT PROVIDED)
AGENDA:
Friday
6:00pm- Prayer
7:00pm- Service Starts
9:30pm- Service Ends
Saturday
8:00am- Prayer
9:00am- Service Starts
9:50am- Speaker/ Pastor Paul Lloyd
10:40am- First Class
11:25am-First Class ends
11:35am- Second Class
12:20pm- Second Class ends/ Break Begins
1:05pm- Intro Panel
2:00pm- Event Ends
PARKING: Victory Outreach Chino
TRAVEL: Nearest Airports to Victory Outreach Chino:
Ontario International Airport (6.6 Miles – 16 minutes)
Orange County Airport (Santa Ana 36.4 miles– 45 min.)
Los Angeles International Airport (LAX 50.5 miles – 1 hour 25 min.)
CHILD CARE: NOT PROVIDED
TRANSLATION: Spanish translation provided at General Sessions, not provided for workshops.
REGISTRATION:
● $100.00 Per Person (Travel, Lodging and Childcare Not Included)
● REGISTER TOGETHER WITH MIGHTY MEN OF VALOR AND SAVE! COMBINATION PACKAGE: $290.00
● SPECIAL FOR BOTH EVENTS: REGISTER FOR MIGHTY MEN AND WITH REGISTRATION PROOF, THIRD WAVE TRAINING WILL BE:$85.00
● Register with Visa/MasterCard/Discover/American Express: at www.victoryoutreach.org
● REGISTRATION IS NON-REFUNDABLE
(DOES NOT INCLUDE TRANSPORTATION, LODGING, OR MEALS. CHILD CARE NOT PROVIDED)