High School Summer Impact/ Operation New Generation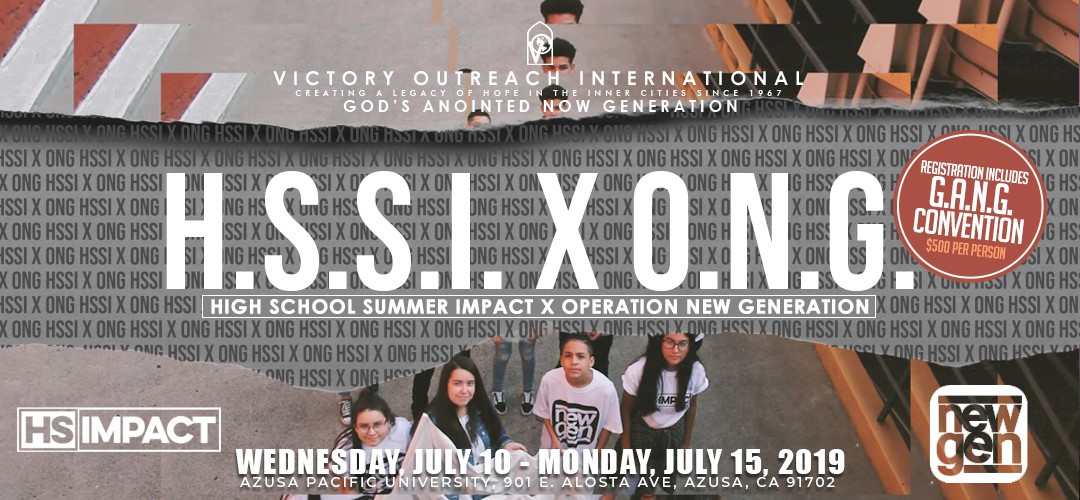 When
Where
Azusa Pacific University
901 E. Alosta Ave.
AZUSA, CA, 91702
UNITED STATES
View Map
Pricing
Early Bird: $ 500.00
ONLY ROOM FOR THE FIRST "100 ON FIRE JR HIGH and 100 HIGH SCHOOL STUDENTS"!!!
DATES & LOCATION:
• Wednesday, July 10th through Monday, July 15, 2019
• Azusa Pacific University (APU) – 901 E. Alosta Ave. Azusa, CA. 91702
REGISTRATION COST: $500.00- Per Person
• REGISTRATION FEE INCLUDES:
o Lodging and Meals
o Local Transportation during the event
o Event Outings
o Registration for G.A.N.G. Convention 2019
WHAT TO EXPECT DURING WEEK:
• Powerful Speakers
• Spiritual Inspiration
• Extreme Evangelism
• Discipleships
• Team building for Jr. Highers
• Field Trips
• Making New Friends
• And much more…
ON-LINE REGISTRATION: (Non-Refundable/Non-Transferable)
IMPORTANT REGISTRATION COST AND DATES:
O.N.G.H.S.S.I.: July 10th to July 15, 2019 and
G.A.N.G. Convention 2019: July 16th to July 19, 2019
(DURING G.A.N.G. CONVENTION DATES – LODGING, MEALS & TRANSPORTATION ARE NOT INCLUDED) TOTAL REGISTRATION COST: $500.00- Visa/Master Card/Discover/American Express
• $500.00 On-Line Early Bird Registration Deadline: July 5th, 2019, @ 5:00 (pst)
• REGISTRATION AFTER JULY 5, 2019: $520.00 PER PERSON (Airfare/Ground Transportation to APU not included)
• REQUIRED STUDENT FORMS:
o Medical & Emergency Contact Information
Print Required Forms –COMPLETED forms must be turned in at the VOI Check-in/Registration Desk on the first day of event.
IMPORTANT NOTE: Absolutely No Walk-In/Onsite Registration will be accepted
Who Can Register for O.N.G./H.S.S.I.?
• Boys and Girls ages 11-18 (Jr High/ High School Students Only) with completed Forms
What time is Check-In?
• Check-In at Registration Table begins at 1:00 pm on Wednesday, 7/10/19 at APU Campus (look for Directional Signs)
• Fully completed Medical/Emergency & Liability Forms must be turned in at this time (non-compliance will result in non-participation of any recreational activities)
What time does Event start?
• Dinner Starts at 5:00 pm
What time does Event end?
• Immediately after Monday morning session at 12:00 p.m.
• All Youth must be picked up no later than 1:00 p.m. at LABI Campus
Transportation: Airfare NOT Provided. Transportation will not be provided to and From the Event.
Airport Pick-Up Transport for International Flights ONLY: $20.00 per person. Only flights coming into the Los Angeles International Airport (LAX) will be accommodated. Flights must arrive between the hours of 8:00 am to 1 pm on Wednesday, 7/10/19. Send your flight itinerary immediately to: events@victoryoutreach.org.
What should my youth bring to this Event?
(IMPORTANT: Label all items with applicant's name)
– Bible and Notebook
– One Jacket/Sweater
– Summer clothes; shirts, jeans, underclothes, socks, etc.
– Tennis shoes, comfortable walking shoes
– Sunscreen
– Modest Swim Suit
– Sleeping bag
– Pillow
– Toiletries; shampoo, deodorant, toothbrush, toothpaste, hair brush, etc.
– 1 – Flashlight
– Minimal travel finances (onsite store)
What should my Teen NOT bring?
– Electronic Games or Devices
– Laptops
– Expensive Jewelry
– Cell Phones (any cell phones will be stored; with allowed usage during designated time frames only) VICTORY OUTREACH ISNOT RESPONSIBLE FOR ANY LOST OR STOLEN ITEMS – THIS INCLUDES CELL PHONES, VIDEO GAMES, ELECTRONIC DEVICES, FINANCES, CLOTHING, ETC.
(SUBJECT TO CHANGE)
LEADERS REGISTRATION REQUIREMENTS:
DEADLINE: Fri., JUNE 14, 2019: Back Ground Check Required
o Church Leaders/Counselor/Staff Volunteer 18 yrs. old + (Background Check Consent & Staff Application Required)
o COMPLETE REQUIRED BACKGROUND CONSENT & REGISTRATION FORMS
o CREDIT CARD AUTHORIZATION / PAYMENT FORM
o Leaders Download & Print Forms and Fax to (909)599-4437 or Email complete Forms to events@victoryoutreach.org) Before July 5th
o Registration Payment of Amount $ 450.00 is required by July 5th
Agenda
Operation New Generation
IMPORTANT REGISTRATION COST AND DATES:
O.N.G.H.S.S.I.: July 10th to July 15, 2019 and
G.A.N.G. Convention 2019: July 16th to July 19, 2019
(DURING G.A.N.G. CONVENTION DATES - LODGING, MEALS & TRANSPORTATION ARE NOT INCLUDED) TOTAL REGISTRATION COST: $500.00- Visa/Master Card/Discover/American Express
• $500.00 On-Line Early Bird Registration Deadline: July 5th, 2019, @ 5:00 (pst)
• REGISTRATION AFTER JULY 5, 2019: $520.00 PER PERSON (Airfare/Ground Transportation to APU not included)