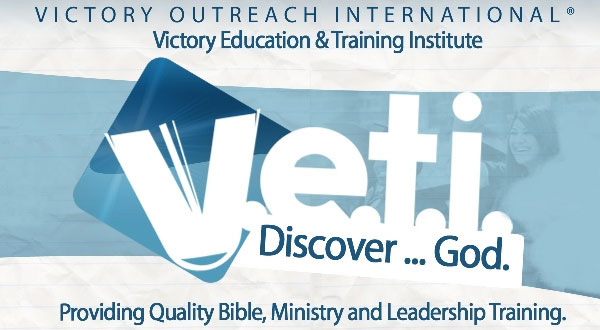 Victory Education & Training Institute
For thirty-eight years, Victory Outreach International has offered cutting-edge education in Biblical, Theological and Ministerial disciplines. Today, our ministries like the Victory Education and Training Institute (VETI) are reflecting the needs of a multi-cultural population. Instruction is offered in English, Spanish and Dutch, thus providing a setting conducive to the development of an effective multicultural ministry.
Another one of our educational ministries is the Urban Training Centers (UTC). The UTC's ultimate purpose is to train young people in three areas: Church planting, missions outreach and church leadership. Students study under dynamic pastors and teachers. The faculty comes from a diversity of backgrounds, but they all have one thing in common: Each has practical, hands-on experience. This means students not only engage in in-depth discussions, but also put into practice what is learned.
Our purpose is to focus on the preparation of men and women who feel called by God to enter into full-time ministry, or other positions of lay ministry and service.
Victory Education Training Institute's philosophy of education is Evangelical; it is our purpose to perpetuate the Pentecostal experience and the missionary and evangelistic fervor that have characterized this movement since its inception. Incorporated into the above is the urgency of educating a ministry that will serve the spiritual needs of a world steeped in humanism, materialism and secularism.
Such a challenge can only be met by a ministry empowered by the Holy Spirit, filled with compassion for a lost world, armed with the sword of the Spirit and consumed by a burning desire and passion to preach the gospel of Jesus Christ to a lost world.