Victory Education & Training Institute
Equipping Men & Women for the Work of the Ministry
Welcome!
Fall quarter is in session.  The winter quarter begins on the week of Monday, January 25, 2016.  Registration for the winter quarter begins December 25, 2015.  To find out what classes will be available before December 25th, contact your local VETI coordinator.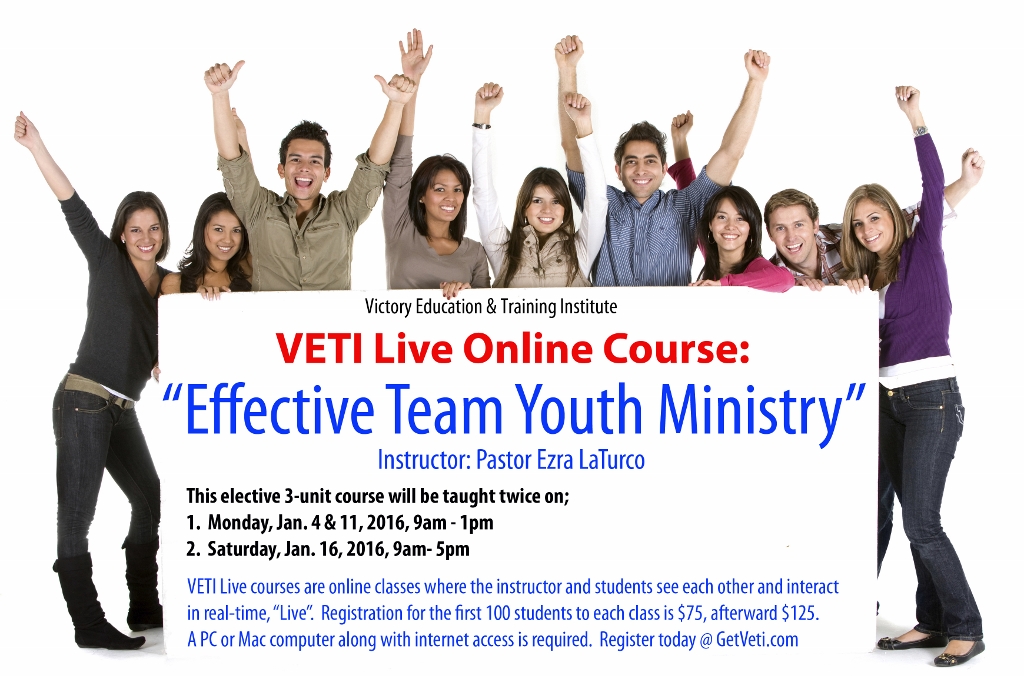 2016  V.E.T.I. Calendar

1st Quarter: January 25, 2016.
2nd Quarter: May 16, 2016.
3rd Quarter: August 1, 2016.
4th Quarter: September 19, 2016.
*  Intensive courses are offered throughout the year.  Check with your local coordinators details & schedule.  24 courses are required to graduate. The Master course list is available here.
2016  V.O. Bible College Calendar
Module 1, January 23, 2016.
Module 2, March 19, 2016.
Module 3, May 14, 2016.
Module 4, July 09, 2016.
Module 5, September 03, 2016
Module 6, November 19, 2016

Online Classes

Online classes begin at the same time as on-site courses. The last day to enroll into an online class is the first day of class.  Online students will not be able to log into their specific course until the first day of class.  To register for an online class click on the "Register Today" button.   On the first day of class visit: http://www.VetiOnline.com and log into your course using your registration username and password.  For details how online classes work click here.  Please note: the username and password for your free account on TheVetiNetwork.com is separate from your Victory Outreach account.
 Follow on: Facebook, Twitter and The VETI Network